Episodio 2.3: Los nombres de la salsa : Willie Colon y Hector Lavoe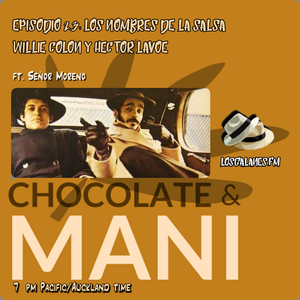 Resuenan ecos en la selva de cemento que es Nueva York. Nuevas voces, nuevos sonidos que vendrían para poner todo patas arriba y denunciar una sociedad injusta a la vez que ponían a todos a bailar con su ritmo caliente. Los ¨Nombres de la salsa¨ es una serie especial que nos lleva a conocer los personajes y las caras detrás de este fenómeno social y musical. En esta primera entrega, Willie Colón, el malo, y Hector Lavoe, el guapo.
Episode 2.3: Los Nombres de la Salsa : Willie Colon and Hector Lavoe 
New York, the concrete jungle, something is waking up. New voices, new sounds that would come to turn everything upside down and denounce an unjust society at the same time that they made everyone dance with its hot rhythm. ¨Los Nombres de la Salsa¨ is a special series that takes us to know the characters and faces behind this social and musical phenomenon. In this first episode, Willie Colón, ¨El Malo¨, and Hector Lavoe, ¨El Guapo¨.