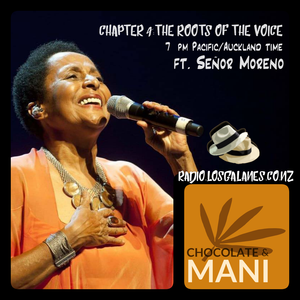 CHOCOLATE & MANÍ:
Ft. Señor Moreno  
Episodio 4: Susana Baca, the root of the voice
las raíces de la voz Susana Baca es una de las figuras más importantes del panorama musical afroperuano. Sus canciones a menudo ponen el dedo en la llaga, versando sobre las realidades que vive Latinoamérica y el Perú. Sonoridades áfrica-hispano-andinas en una voz que remueve almas.
Chapter 4: Susana Baca
the roots of the voice. Susana Baca is one of the most important figures in the Afro-Peruvian music scene. His songs often express the realities of people living in Latin America and Peru, others, recovering ancestral meanings . African-Hispanic-Andean sounds in a voice that removes souls.
CHOCOLATE & MANÍ is a program that places the emphasis on Ibero-American musical traditions and avant-gardes. Charismatic characters, busy lives, the fusion of styles in America allows swing in clave 3:2 or batá drums making hip hop bases, walking together for the delight of our listeners. Chocolate Mani every Friday  7pm Pacific/Auckland time on radio.losgalanes.co.nz